Panamerican LED Explosion Proof Light S Series
Writer:Daisy Time:2019-07-04 Browse:121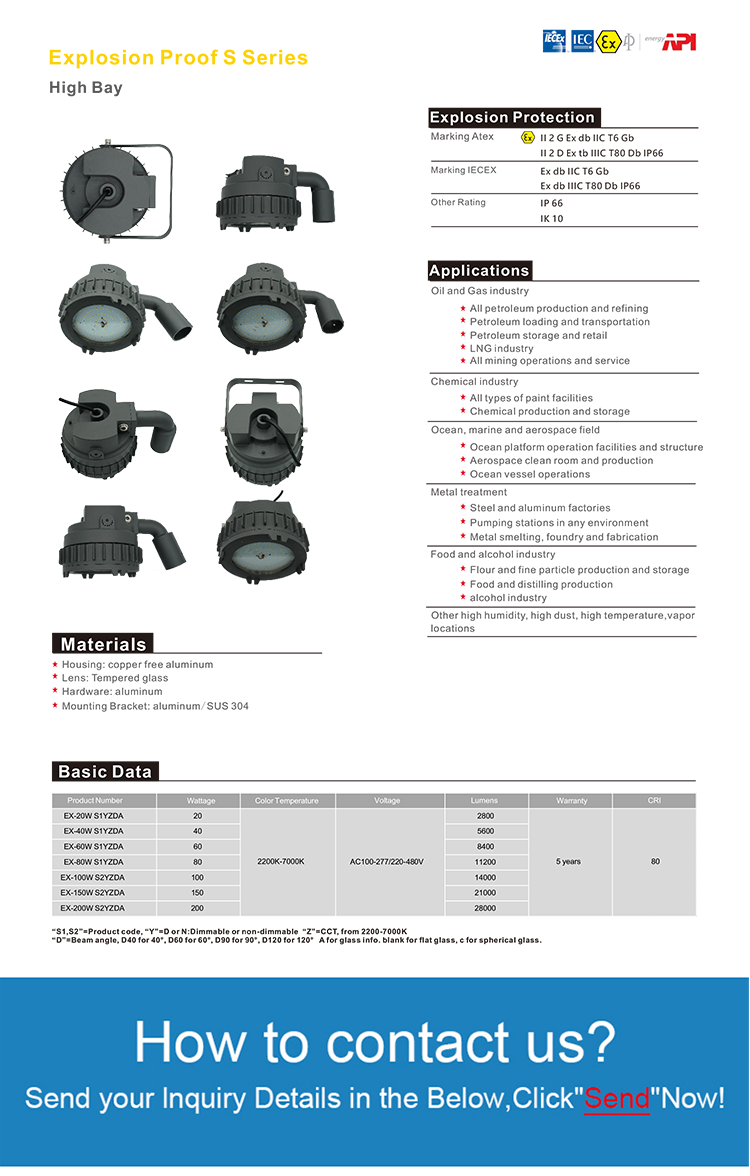 Applications
This luminaire can be used as a spot light,down light,tunnel light,flood light and wall pack for general illumination in hazardous locations.
. All Petroleum Production and Refinery
. Petroleum Loading and Transportation
. Petroleum Storage and Retail
. Paint Facilities
. Pumping Stations in any Environment
. Metal Smelting, Foundry and Fabrication
. Ming Operations and Service
. Ocean Platform Facilities and Structure
. Aerospace Clean Room and Production
. Chemical Production and Storage
. Ocean Vessel Operations
. Military Space Conditions
. Flour and Fine Particle Production and Storage
. Food and Distilling Production
. Electrical Power Generation and Stations
. Other high humidity, high vapor, high dust and high temperature locations
Features
High efficacy: up to 140lm/W
CRI>70
Surface mounting and pendant installations
Wide and narrow optics for uniform illumination
Copper free aluminum
High vibration resistance

Rating and Certificates
NEMA 4X, IP66
IK10
UL1598 and UL1598A
UL844
CSA C22.2 No.137/No.250.0
Class l,Division 1, Groups C,D
Class l,Division 2, Groups A,B,C,D
Class ll,Division 1, Groups E,F,G
Class ll,Division 2, Groups F,G
Class lll
Marine and Wet Locations
IECEX
ATEX
5 years limited warranty and any other warranty period specified in agreement

Typical model specification
Product ID

Wattage

Lumens

CCT

Voltage

CRI

Emergency

Working Hours

EX-20W S1YZDA

20W

2800

2700K-7000K

AC100-277V

AC200-480V

DC12-36V

>70

3 Hours

50,000+

EX-40W S1YZDA

40W

5600

EX-60W S1YZDA

60W

8400

EX-80W S1YZDA

80W

11200

EX-100W S2YZDA

100W

14000

EX-120W

S2

YZDA

120W

16800

EX-150W S2YZDA

150W

21000

EX-200W

S2

YZDA

200W

28000
Warranty
• Only offer 5 year's warranty or any other warranty period specified in the contract for the product from the date of purchase*;
• Invoice or shipment bill is required to claim the warranty.
• The warranty policy only requires manufacturer to repair the defective product or send substitute for replacement.
• Installation labor, electricity cost and other related cost will not be covered by the manufacturer warranty policy.
• Warranty doesn't cover the defect caused by inappropriate use, especially if directions of the instructions for use are not observed, normal abrasion as well as failures which affect the value or use of the product insignificantly.