Explosion Proof Light for Flammable and Explosive Environment
Writer:Daisy Time:2021-06-02 Browse:186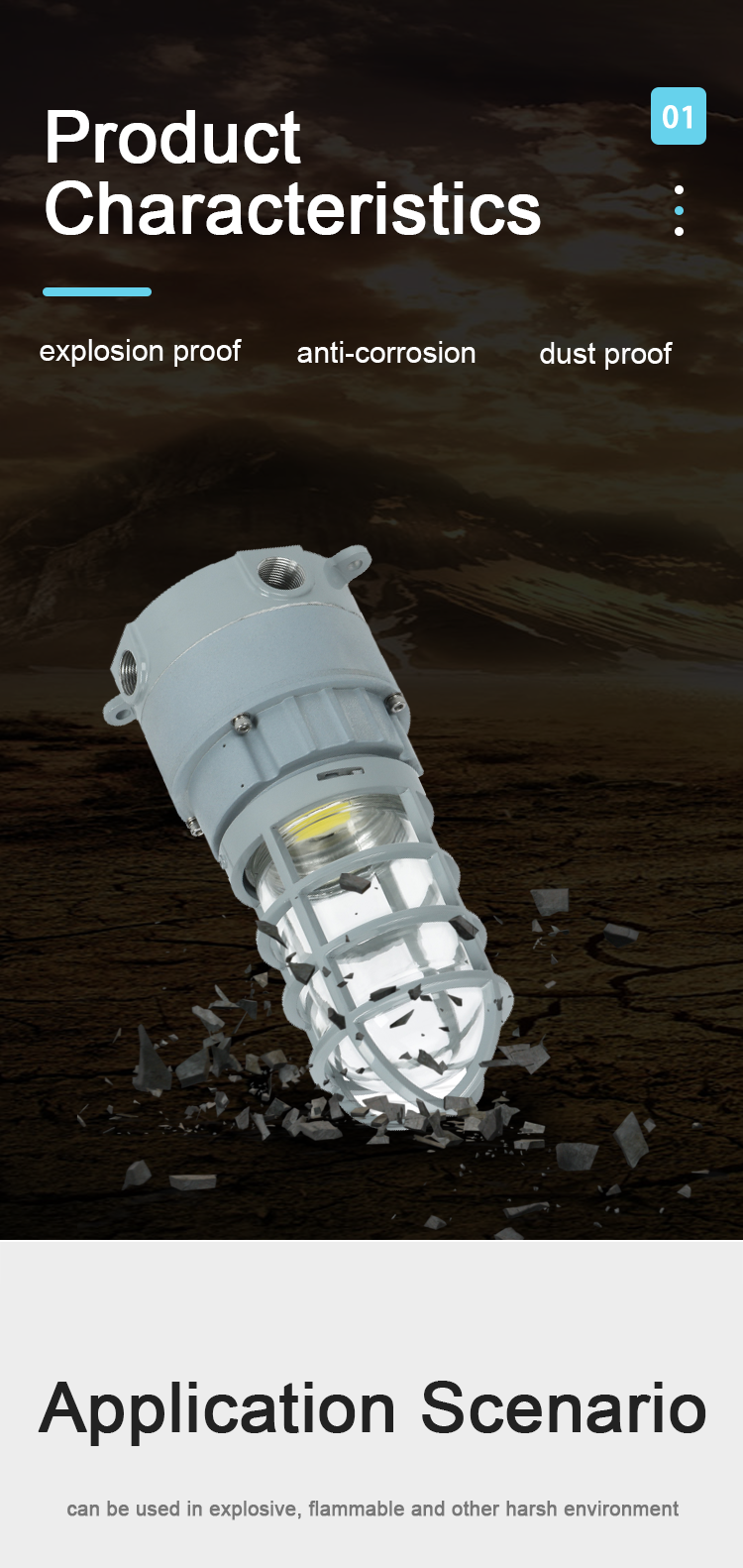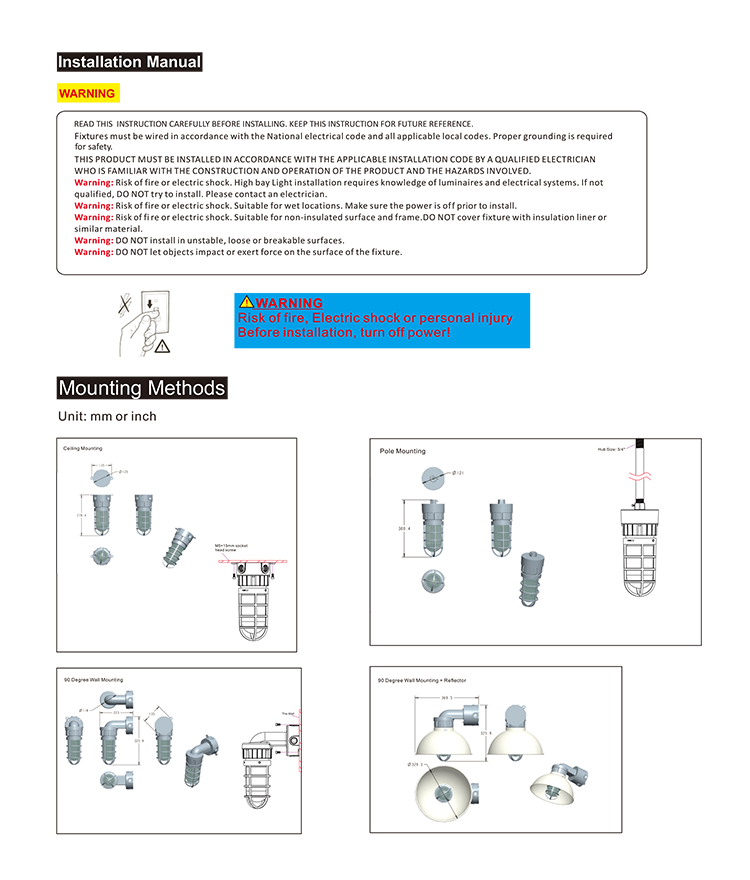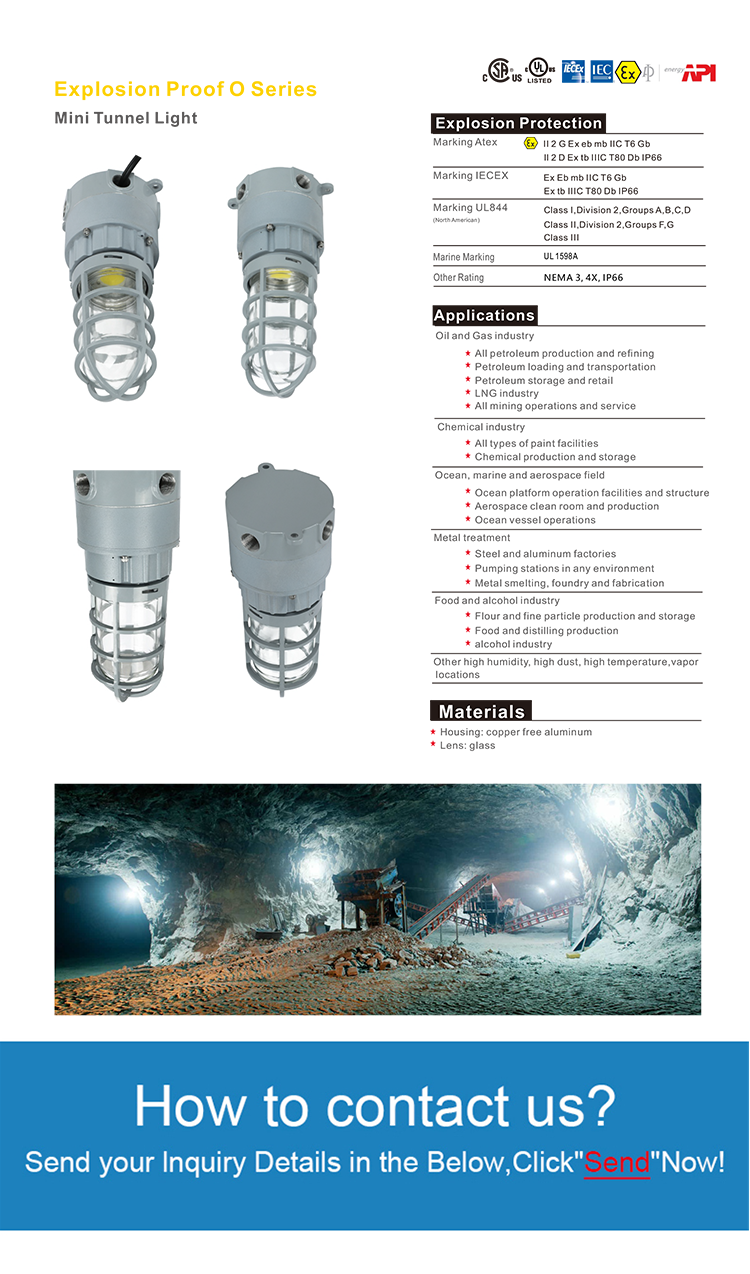 Applications
This luminaire can be used as a spot light,down light,tunnel light,flood light and wall pack for general illumination in hazardous locations.
. All Petroleum Production and Refinery
. Petroleum Loading and Transportation
. Petroleum Storage and Retail
. Paint Facilities
. Pumping Stations in any Environment
. Metal Smelting, Foundry and Fabrication
. Ming Operations and Service
. Ocean Platform Facilities and Structure
. Aerospace Clean Room and Production
. Chemical Production and Storage
. Ocean Vessel Operations
. Military Space Conditions
. Flour and Fine Particle Production and Storage
. Food and Distilling Production
. Electrical Power Generation and Stations
. Other high humidity, high vapor, high dust and high temperature locations
Features
Compact structure, small size and light weight for easy installation.

High vibration and impact resistant.

Protective metal cage against light potential damage.

Durable design for rugged environment and work site.

Impact resistant and thermally stable toughened glass.

Rating and Certificates
IP66
IK10
UL1598
II 2 G Ex eb mb IIC T6 Gb
Il 2 D Ex tb IIIC T80 Db IP66
Ex tb IIIC T80 Db IP66
Ex Eb mb IIC T6 Gb
Class I,Division 2,Groups A,B,C,D
Class II,Division 2,Groups F,G
Class III
Marine and Wet Locations
IECEX
ATEX
5 years limited warranty and any other warranty period specified in agreement
Typical model
Product ID

Wattage

CCT

Lumens

Voltage

CRI

EX-10W OYZDA

10W

2200K-7000K

1400

AC100-277V

AC200-480V

>70

EX-15W OYZDA

15W

2200K-7000K

2100

EX-20W OYZDA

20W

2200K-7000K

2800

EX-30W OZYZDA

30W

2200K-7000K

4200