Airportupgrades inside Lighting to Smart LEDs
Writer:Jane Time:2018-01-09 Browse:59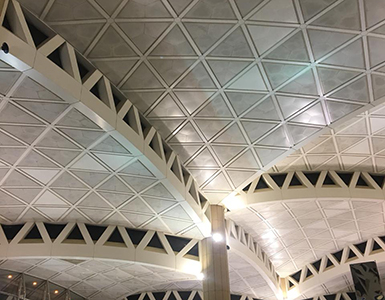 Application: Airport inside Lighting
Fixture: UFO highbay
Location: Pratt County, MI
Project Details
Kansas City International Airport is a public airport 15 miles (24 kilometers) northwest of Kansas City Center in Pratt County, Missouri. In 2017, the airport handled 11.5 million passengers.
Challenge
Kansas City International Airport used 1000 watt high pressure to illuminate the airport lobby. Not only were these lights expensive to maintain, but light alsocoverage range is very small. With rising energy and labor costs, airport lobby wanted an LED lighting solution that offered durability, performance and reliability.
Solution
The 300W UFO High Bay is used to transform the traditional 100W lamp, and the integrated lighting intelligent technology system (lit system) is added. LED is a lightweight multi-functional installation option that makes them easy to retrofit. At 300 watts, these devices use half the energy of a 100 watt high-voltage lamp. L80 lumen depreciation of 10000 hours provides long-term performance and reliability over the life of the fixture. When used together with wireless control of lighting system, it can achieve 30% additional energy saving, thus bringing fast return on investment.The new lighting system has greatly improved the safety, security, and efficiency of concourse.