The Case Of Led Grow Light For Strawberry Growers In Alain Lutz
Writer:Jane Time:2019-12-09 Browse:80
Alain Lutz is an innovative strawberry grower. In Lutz's greenhouse, climate, irrigation and fertilization are all computer-controlled. Thanks to its advanced greenhouse technology, Lutz has been invited for the third year in a row to attend the Strawberry Fair in Mercelle and present its own strawberries to the King of Belgium. So could LED greenhouse lighting replace his outdated incandescent bulbs?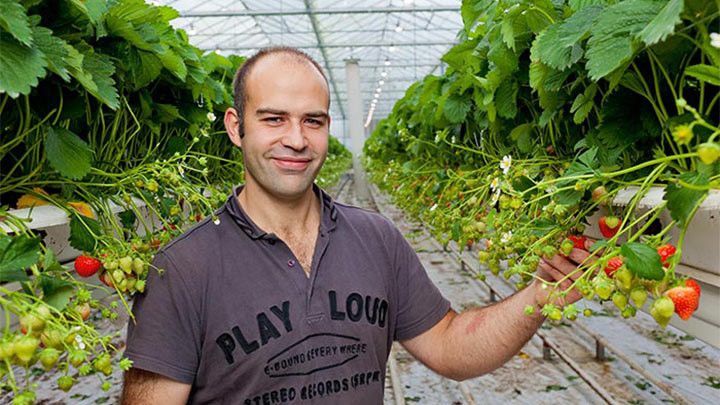 Proper lighting
Artificial lighting with incandescent lamps has been a common practice in strawberry growing circles for many years. However, incandescent bulbs are now obsolete, leaving strawberry growers to look for alternative lighting solutions. Lutz chose Pan Am Plant Lamp to light its 10,000-square-meter strawberry field. Lutz grows a variety of early ripening strawberries, so Pan American has provided it with a flowering lamp specifically tailored for growing strawberries, offering a special dark red, white and far-red "light formula".
Pan American's LED plant lights provide a unique "light formula" that contains far red light, making the required stem extraction more obvious in the production of strawberries, and even achieving higher yields of early ripe strawberries, and greatly reducing the proportion of malformed fruit. Lutz is delighted with Pan Am's new lighting solution: "Pan Am's LED Plant Lamp is a really good product. I appreciate its excellent quality and very low energy consumption. The initial investment, compared to the value of its later use, feels excellent quality and reasonable price."
One of the reasons Lutz chose Pan Am's LED plant lamps is because they use very little energy. They save 82-85% more energy than incandescent bulbs! Pan Am really helped Lutz this year by supplying strawberries directly to the Belgian royal family.